Gaia Discovery, which is a fantastic website for eco living solutions has just published a feature article about The Hummingfish Foundation (
http://www.gaiadiscovery.com/latest-people/hummingfish-founder-celebrates-one-year-with-new-sustainable-1.html
).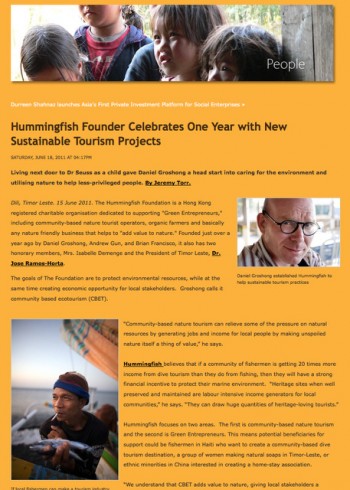 Gaia Discovery is an online publication run by one of most amazing eco-warriors we know, Ms. Malika Naguran.
Gaia is not only a great source of information for any serious nature loving tourist, it is also a strong advocate for others who are working to help save dwindling natural resources.
Gaia Discovery sniffs out environmental news and captures inspirational life stories.  It zooms in on people, sometimes ordinary people, who make a difference. Our planet's a curious place and there's a lot going around than what meets the eye.
Untold travel stories, unchartered territories and harmonious simplicity with Mother Earth. Precious heritage. We hope to bring you exciting tales based on personal experience so that you know you're not simply relying on a glossy brochure when you head out to foreign lands.
Our planet is ailing. Travellers with a spark of conscience can help by seeking out eco-friendly places to visit and stay, not least because commercial support is needed to support green enterprises that bother to make a difference. Gaia Discovery hopes to continually seek out these eco-friendly destinations and resorts, plus feature change agents who may be developers and hoteliers. In doing so, it hopes to raise the awareness and sustainability of eco-tourism.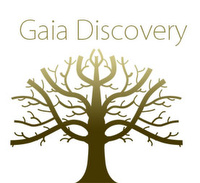 Gaia Discovery online publication also aims to influence industrialists, builders and hoteliers to forsake their myopic stance in developing properties that are commercially viable but detrimental to the balance of eco-systems. Through Gaia Discovery, we will urge them to exercise greater thought and care in protecting the environment and its inhabitants, and when they do, we will recognize them for making the change.
Gaia Discovery is a green reference point to cultivating pro-planet practices, incorporating home, living, business, travel, music, art and adventures.
To learn more about Gaia Discovery, please visit their website
http://www.gaiadiscovery.com/