Timor-Leste has potential:
Timor-Leste is unique from its Southeast Asian neighbors with extremely rich natural environments, untouched by industry or destructive human impact.  With proper branding and marketing, Timor has the potential to become one of the region's top destinations for dive and eco-tourism and hence an industry vital to Timor's development as a nation.
In 2006, according to the UNWTO, international tourism receipts (including transport) generated US$8.8 trillion. The tourism industry is the largest employer worldwide (it accounts for more than 10% of total employment) and trips are predicted to increase to 1.6 billion by 2020 according to the WWF.
Research by The International Ecotourism Society (TIES) reveals that eco-tourists are likely to be higher spenders on their holidays than 'ordinary' mass tourists and these high-spending, nature-loving tourists are undoubtedly an attractive option for Timor-Leste and it's quest to create sustainable community-based ecotourism (CBET) jobs.
Of all the industries that a nation can possess, tourism is the one industry that relies on compelling imagery well presented to sell.  You can sell fisheries, oil or timber without powerful photographs, but not tourism. Tourism is an industry that relies heavily on strong visual imagery and the following proposed book and archive project will help Timor to brand itself and promote its many unspoiled natural wonders.  To link Timor's CBET destinations with potential tourists, it is vital to have an arsenal of powerful photographic images and present them in a way that can convey the power and beauty of Timor's nature-based tourism assets.
Positive image of Timor-Leste:
In January of 2006, Daniel J. Groshong published the book Timor-Leste Land of Discovery, which was the first ever coffee table book published depicting Timor's landscape, cultural and underwater wonders. Timor-Leste Land of Discovery and its imagery have reached millions of people around the world with a positive image of Timor-Leste.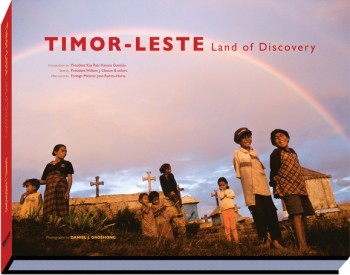 Since then, the images from the Land of Discovery project have been used countless time in publications the world over, such as ScubaDiver Australia, National Geographic China, Asian Geographic and the South China Morning Post to name a few. Even at times when Timor was experiencing upheaval and sporadic acts of violence which were grabbing world headlines, the imagery from Timor-Leste Land of Discovery had a great effect in presenting a positive image of Timor-Leste as during a live CNN Today interview in 2006, which reached an estimated 20 million people.
Perhaps most importantly, the Timor-Leste Land of Discovery project has created a collection of thousands of images, which have been used countless times in official government promotional efforts to promote Timor-Leste as a peaceful land with many unspoiled natural resources.
Much has changed in Timor-Leste:
With the 10 year anniversary of the Restoration of Independence approaching and with a wealth of data and imagery which has be compiled since 1999, now is the time to create a set of books which portray in a stylish way, Timor's CBET assets (Marine, Trekking, Birding and Cultural).
Much has changed in Timor since the publication of Timor-Leste Land of Discovery in 2006 and it is vital that Timor-Leste continue to "wow" people with amazing images of its tourism assets.  Therefore it would now be of great benefit to Timor-Leste to produce another series books with fresh new images.  This will enable the Government of Timor-Leste to proudly present the beauties of Timor's natural landscape, untouched marine ecosystem, rich birdlife and its culture wonders to the world with set of quality books containing world-class images and design.
Connecting the dots:
After nearly 10 years of independence, Timor-Leste's tourism industry is showing signs of a strong Community-based ecotourism model. The Atauro eco-lodges, the Valu Beach eco-lodge, the handy-crafts, etc, show that the Timorese have the capacity to create from the ground up sustainable CBET's
So on the one hand, there is a significant number of potential destinations in Timor-Leste for community-based nature tourism.  On the other hand, there is a multi-billion dollar a year tourism industry.
How to connect the two? How to bridge the gap between CBET assets and nature loving tourists?
The short answer is compelling imagery, well presented. This is the mission of The Hummingfish Foundation, to connect the dots between community-based nature tourism assets and nature loving tourists.
According to researchers from Yunnan University:
"Marketing is the fatal weak point to most failed CBET projects. Far too many inexperienced rural communities have attempted to operate independently of the tourism industry and have consequently failed. The major reason for failure was their inability to access the extensive promotion and marketing systems upon which tourism depends."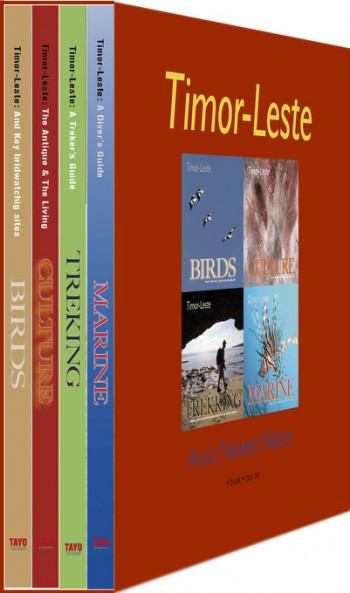 Proposed books:
This project will create many valuable skills as well as a central photographic archive with thousands of high-quality images, which can be used to promote Timor-Leste through a variety of marketing tools, including the proposed four-book set.  The project will create a legacy of photographic and design excellence, which will be synonymous with tourism in Timor-Leste.
Four-book box set of coffee table books
Hard cover, four-book set of books depicting Timor's Marine, Cultural, Trekking and Birding assets, using fresh new images collect from a wide range of sources as well as with extensive imagery taken specifically for this project.
Four-book box set of pocket sized field versions for travel
There will also be produced a smaller pocket sized field guide version of the four books, with fold out maps, etc, which people can use when they travel throughout Timor-Leste.
Tetun language soft cover book with project photos and information
The Hummingfish Foundation feels that it is essential to include and engage the Timorese people in the development of this community-based nature tourism industry and a soft cover Tetun language booklet containing images and information from the overall project will be created.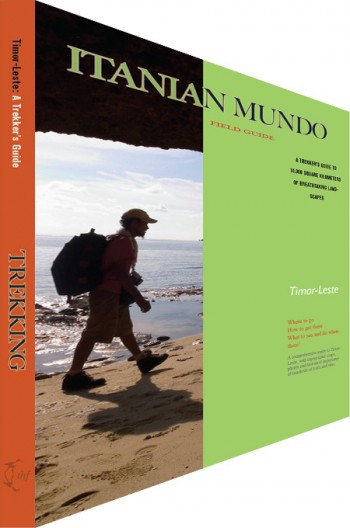 Photographic archive containing project images
Perhaps the most important thing that this project can do to promote Timor's nature based tourism assets in future is to build the photographic archive with thousands of new high quality images which the government can use to further promote Timor-Leste through a variety of high quality promotional materials.
Conclusion:
The 18th session of the UN World Tourism Organization (UNWTO) General Assembly, which concluded on October 8th 2009, highlighted "The enormous importance of [tourism] for job creation, trade and development." The UNWTO also said that tourism, which is a multi-billion dollar a year industry, "provides more than 75 million direct jobs worldwide, offers fast entry into the workforce, particularly for youth and women in urban and rural communities, accounts for 30% of the world's exports of services (1 trillion US$ a year) and up to 45% of the total export of services in developing countries."
Community-based nature tourism helps add value to unspoiled natural resources.  When a community has a financial interest in an industry, which is based on nature in an unspoiled state, then they have a strong financial incentive to protect those natural resources.  For example, according to the Timorese NGO Haburas, the Eco-lodge in Tutuala was build for around $10,000usd and in their first year of business, they made roughly $60,000usd.  Why do people go to the eco-lodge in Tutuala?  The answer is the peaceful beauty of the natural surroundings.  Due to the eco-lodge and the profits generated by it, the people of Tutuala have a strong financial motivation to protect the beauty of that area.  In fact, the better protected the area, the more valuable it becomes.
Tourism is a multi-billion dollar a year industry and if branded and marketed properly, Timor-Leste has the potential to gain a considerably larger share of the tourism market in Asia.  This proposed project is designed to not only create a high-end photographic showpiece of Timor-Leste and its people, but also give the people of Timor-Leste economic possibilities through sustainable community-based nature tourism.
Dive and eco-tourism are some of the few industries that have the potential to put economic growth directly into the hands of lower and middle class Timorese. And The Hummingfish Foundation believes that it is absolutely essential that Timorese people be given the economic incentive to protect the very environment which puts food on their tables through sustainable dive and eco-tourism projects.
In addition to economic development and the valuable investment in the skills of local people, at the completion of the project all of the images will be donated to the government of Timor-Leste, where they can be employed to raise money through the promotional of tourism, stock sales of photographic images and book sales for years to come.
If we can promote Timor-Leste as a peaceful place with unspoiled natural resources, then we can not only help to support the existing nature-based tourism destinations in Timor-Leste (Atauro eco-lodges, Valu Beach eco-lodge, the Posadas, the dive companies, etc), but we can also help set in place a future model for Timor's tourism industry development which is community-based nature tourism focused.  This model will create jobs and at the same time give communities a financial incentive to protect nature.
Using the power of imagery and design, The Hummingfish Foundation strives to help connect the dots – linking community-based nature tourism start-ups with potential nature loving tourists the world over.