The Hummingfish Foundation is working with a group of women in Timor-Leste to help re-brand and export there beautiful line of all natural soaps, called AI-FUNAN, or "flower" in the Timorese language.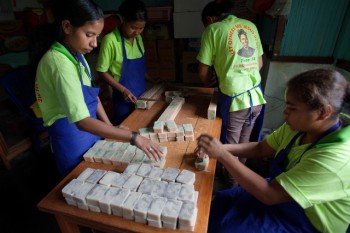 We are very proud to announce, that Air Timor has generously agreed to be a sponsor of this exciting project by proving complimentary air freight services for our soap products, as well as allowing us to hand out free soap samples on each and every Air Timor flight for a month.
Before the Hummingfish Foundation began helping the Ai-Funan ladies re-brand their soap, they were selling their product to the domestic market only, and making a meager living as a result. This re-branding project has added value to their product and given them access to markets in countries all over the world.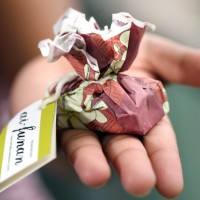 The Hummingfish Foundation is helping the ladies of Ai-Funan generate more income, which will have an enormous and long-lasting impact not only on their lives, but the lives of their families as well. Making this business successful will turn them into role models for other young women and people with nature-friendly business ideas all across Timor-Leste. They are clearly green entrepreneurs in every sense of the word.
Coconut, guava, candlenut, frangipani, lemongrass and coffee are the six sumptuous flavors being launched. Each bar of Ai-Funan soap is handmade and contains 100% all-natural ingredients including locally-produced organic coconut and palm oils.
As one of their biggest fans, the Hummingfish Foundation is extremely excited to be involved with the ladies of Ai-Funan, and is very much looking forward to bringing their all-natural handmade soaps to the world.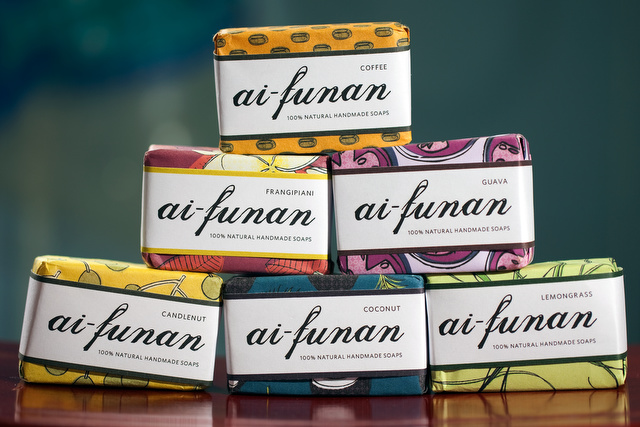 Ai-Funan sold on Cathay Pacific Airlines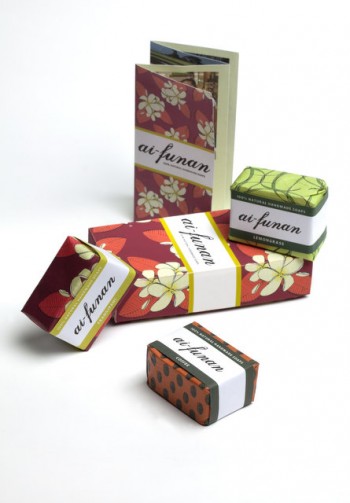 We have exciting news!!
Hummingfish has recently confirmed an agreement to sell Ai-Funan soaps on all 250 Cathay Pacific flights per day starting April 1st, 2013!
This is a huge honor for Ai-Funan be among some of the top brands in the world being sold on Cathay Pacific.
Due to the extremely short deadline, we have been working day and night to prepare the 3 soap mini-pack, which will be available exclusively on Cathay.
Congratulations to the ladies in Baucau who proudly make what we think is the best soap there is.
Daniel J. Groshong
Founding Director
The Hummingfish Foundation
Where can you buy Ai-Funan Soaps?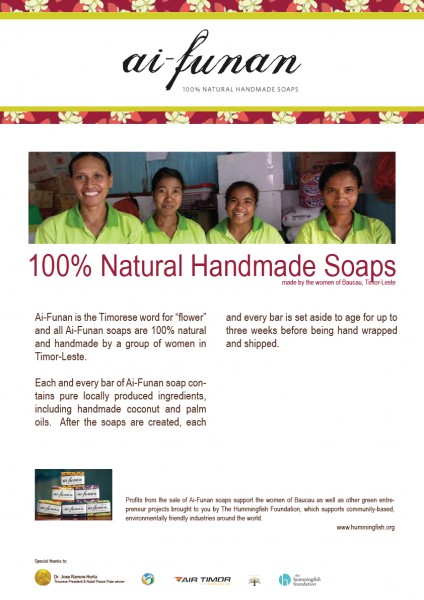 SINGAPORE
In Singapore, please visit
Gift and Take,
Parco @ Millenia walk
(level 3) unit 03-20.
9 Raffles Boulevard
Singapore 039596
or Food for Thought located at 8 Queen Street.
TIMOR-LESTE
In Dili, Timor-Leste, Ai-Funan soaps are available at Sagres Seaside, which is located at Praia Dos Coqueiros , Comoro – Dili and Katua's Hotel, which is on AV. Presidente Nicolau Lobato in Dili (Grupo Sagres). For information on Gruop Sagres, please email info@gruposagres.com.
HONG KONG
Ai-Funan soaps are exclusively available through the good people at Homegrown Foods.  Please visit their website for more information (Homegrown Foods)
For any other questions, please email info@hummingfish.org.
Several retail outlets in Singapore, Bali, Australia, Fiji and Hong Kong have already agreed to carry Ai-Funan soaps, so be sure to keep your eyes open the next time you visit a store, hotel, or spa!
First dividend payment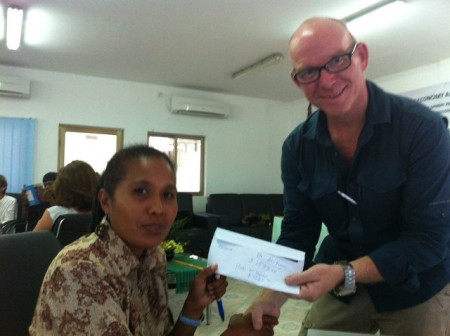 Hummingfish Director, Daniel J. Groshong hands over $1,535usd in profits to the Ai-Funan soap makers in Timor-Leste!  Another $1,535usd has been put into a development fund, which will later be used to expand Ai-Funan's infrastructure and product line.
In the highly successful branding and marketing project, Hummingfish has so far generated more than $7,000usd for the soap makers by exporting their soaps to high-end markets outside of Timor.  Ai-Funan soaps are currently available in Hong Kong, Singapore and online.
Official Launch of A-Funan!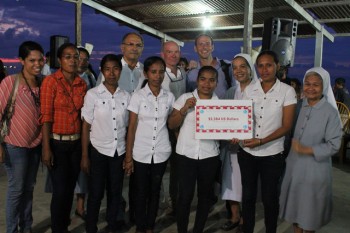 We have had our first month of official sales and our grand launch for Ai-Funan all natural handmade soaps in December and it has been an amazing month indeed.
The December sales for Ai-Funan soaps exceeds $5,000usd, which is much better then we could have possibly hoped for, being as it was a three to five hundred dollar a month business when we started working the the ladies in Baucau who make the soap just a year ago.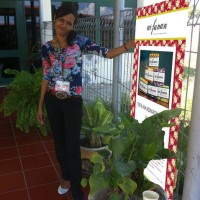 For the launch of Ai-Funan, we had a week of events in Dili, Timor-Leste.  To promote the soaps, we started with the handing out of 2,000 free samples to arriving and departing passengers at the Dili Airport. We had a special inaugural sales event at the Esplanada Hotel (Many thanks to our friend Marek), which was a very nice day of selling soaps as well as giving free samples to guests at the hotel.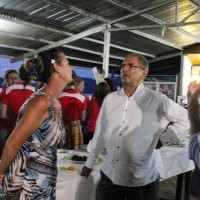 On the 12th of December, we had a grand launch party at Sagres Seaside restaurant with Timorese President & Nobel Peace Prize winner Jose Ramos-Horta as the keynote speaker.  The ladies from Baucau who make the soaps were in attendance, as well as several dignitaries and friends of the President.
On the following day, we had an amazing event at the airport, where President Ramos-Horta and Minister of Tourism, Commerce and Industry, Mr. Gil Alves and the soap ladies from Baucau personally handed out the Ai-Funan soap samples to arriving and departing air passengers.  It was an honor to have the President and Minister Alves at the airport on the 13th and it was quite a surprise for the arriving passengers to see them all standing there just before the immigration counter.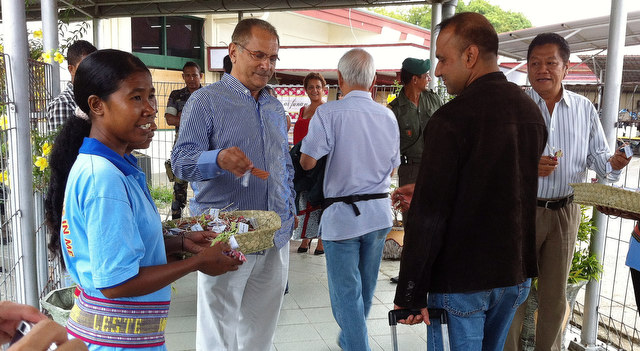 Ai-Funan soaps are now available in Dili, Singapore and Hong Kong and we are working to expand this distribution network to Australia, Europe, China and more.
The Hummingfish Foundation would like to sincerely thank all the people who have done so much to help with this humble, but successful project.
Official gift of state
Timorese President & Nobel Peace Prize winner Jose Ramos-Horta has authorized the use of the Nobel Peace Prize logo and asked that we supply him with commemorative soap packages, which he will give to his guests as official gifts of state.  We have created a special limited edition, VIP version of the Ai-Funan 3 soap box set especially for visitors to the President's office.
Please comment!
As we roll out our line of Ai-Funan all natural soap products, customer feedback is vital to us.  If you have tried Ai-Funan soaps, please take a moment to send us a comment below.  If you have not tried Ai-Funan soaps, but have something to say in regards to the product, we value your opinions as well.