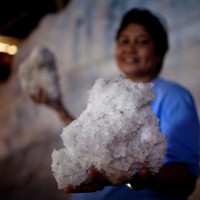 Laga, a small village located on the north coast of Timor-Leste is home to one of the most remarkable sources of sea salt anywhere in the world.  Just a few kilometers east of the village is a fresh water lake which produces in access of 100 tones of pure sea salt each year.
The Fatuk Masin lake is located in a solemn and peaceful area far from the hustle and bustle of urban life.  Local traditions boast of the healing properties of the lake and the salt that comes from it.
The peaceful nature of Fatuk Masin lake and it's surrounding area, which is just 300 meters from the sea, and the local communities use of the lake and it's salt for medicinal purposes, make idea for a low-impact eco-wellness resort.
A community-based wellness resort could be a big job creator for the people of Laga and an important source of much needed funds there.