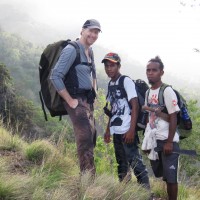 Timor-Leste is emerging as one of the world's most exciting dive tourism destinations and is blessed with numerous world-class dive sites, many of which are just a short drive from the capital city of Dili. As of now, most divers drive from Dili to the dive sites and return the same day.  With the development of some community-based diver's accommodations, Timor's coastal communities can start to profit from this robust tourism sector.
Behau Village, which is roughly 50 kilometers East of the capital city of Dili, is one such coastal community. which has also demonstrated a work ethic and a willingness to be a part of Timor's tourism future.  Behau Village is perfectly located at the heart of Timor's best dive sites.  With 29,000 tourist arrivals in 2009, Timor-Leste is not only attracting more foreign dive tourist each year, but it also has a large expat diving community which is always on the lookout for new attractions.
Having community-based diver's accommodations and other diver support services will inject jobs, much needed foreign capital and a strong financial incentive for the community to protect the marine environment.