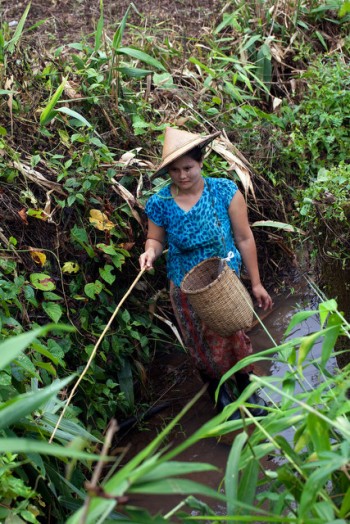 The Thung Yai Wildlife Sanctuary in Thailand, is a World Heritage site and SE Asia's largest protected forest.  Combined with the adjoining Huai Kha Khaeng Wildlife Sanctuary, Thung Yai Naresuan forms a protected area of 622,200 ha.  Although the two sanctuaries are administered separately, they are essentially a single conservation area. Both of them were declared a World Heritage Site by the United Nations in 1991.
Ethnic Karen people who inhabit the forest's perimeters have been surviving for centuries by growing a special kind of "Hill Rice," but in recent years, international traders of non-native crops such as palm oil and tapioca have been encouraging these traditional people to clear land to plant monoculture crops, destroying unspoiled natural forest in the process.
As with other branding and marketing projects, The Hummingfish Foundation believes that with the creation of a high-end, organic brand of "Hill Rice," we can help the indigenous Karen people in Thung Yai continue to grown their traditional crops, while at the same time improving their standards of living and saving the precious resources of the Thung Yai World Heritage site at the same time.