Bee the Change:
Apiculture Fences to Reduce Human-Elephant Conflict and Provide Sustainable Alternative Livelihoods in Rural Thai Villages
Introduction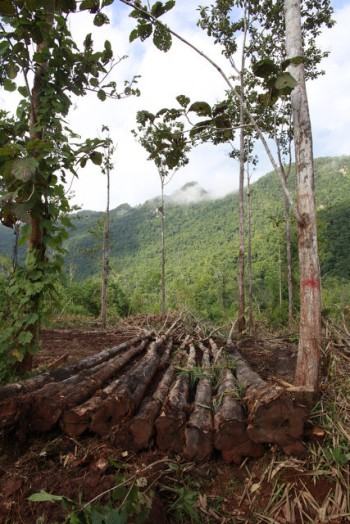 Over the past three decades, elephant habitat has been dramatically reduced throughout Asia due to destruction of forests for farms, settlements, roads, recreational facilities, dams and other human encroachment. Elephants are immense herbivores consuming 150 to 300kg of jungle fodder each day. With limited and isolated tracts of their original range remaining, instances are steadily increasing of elephants leaving protected forests and entering nearby agricultural fields to feast on high calorie crops. Many enter villages causing damage to property and killing inhabitants. The people living in close proximity to elephant habitats are in peril both for their lives and their agricultural livelihoods. With their dwindling habitat, elephants are equally at risk as villagers turn to destructive and aggressive measures to repel pachyderm invaders. This project aims to address human-elephant conflict, the need for sustainable livelihoods, and human impact in protected areas buffer zones, through the implementation of village-scale apiaries.
Participants
This project targets 12 villages in Kanchanburi and Sangklaburi Provinces of western Thailand. Villagers are primarily Mon and Karen ethnic minorities. Administration of the project will be carried out by Kayah Ecology – a U.S non-profit organization based in Kanchanburi Province, with support from the Foundation of Western Forest Complex Conservation (FWFCC) – a registered Thai non-profit organization, Elephant Conservation Network (ECN) – a UK organization based in Kanchanaburi Province, Hummingfish Foundation – a Hong Kong registered organization, and Bees For Development – a UK organization.
The Problem
In 1983 12 villages in western Thailand were displaced by the development of the Vajiralongkorn Hydroelectric Dam. The Thai government relocated the villages to areas away from the flooded reservoir but in closer proximately to the wildlife sanctuaries of the Western Forest Complex, which are home to a significant population of Thailand's endangered elephants. Elephant habitat was also flooded by the dam project, causing overcrowding of elephants in the sanctuaries and greater competition of bull elephants for food and territory.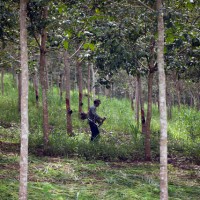 Village economies in this area are largely based on agricultural mono-crops exported to Bangkok, that include tapioca, sugar cane, and rice. Elephants are drawn out of the nearby wildlife sanctuaries to feast on these high caloric crops, causing escalating conflicts between elephants and villagers. Farmers victim to crop raiding have increasingly turned to even more destructive mono-crops such as rubber and palm oil due to their profitability and lack of appeal to elephants. However, palm oil and rubber plantations create a destructive lack of biodiversity in the fragile buffer zones along the periphery of wildlife sanctuaries and other protected areas.
The Solution
A recent study in Africa demonstrated that more than 90% of elephants will flee when they hear the sounds of buzzing bees. They also discovered that elephants produce a special rumble to warn other elephants away from the danger.
These findings were used to construct barriers where beehives are woven into a fence, keeping the elephants away from villages and agricultural fields.
This project tests the African study as a model to resolve human-elephant conflict amongst Asian elephants and villagers. It also takes the study a step further in using beehives in village-scale apiculture to provide a sustainable alternative livelihood for village communities.
Because there is already an established market for nationally produced honey in Thailand, the Hummingfish Foundation will provide initial marketing for village bee products in restaurants and specialty stores in Hong Kong, so that once a product is established and standardized, villagers can begin generating an income beyond local markets.
Approach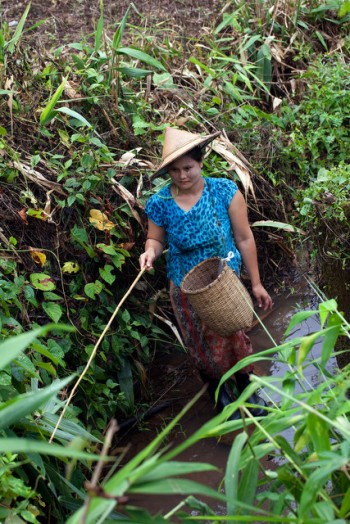 In recent years several development initiatives in the Northeast and South of Thailand have had success in implementing projects through women's collectives, we will take a similarly gendered approach.
Phase 1 of the project will consist of the establishment of women's groups in each target village to manage communal apiaries.  Village groups will be brought together for an initial weeklong training administered by the Thai chapter of Asian Apiculture Association and the Thai Organic Beekeepers Association.
Phase 2 of the project will supply village collectives with apiculture equipment and bees to experiment with honey yields.   Collectives will also facilitate the construction of kitchen gardens to increase pollen variety for bees and to work towards organic certification standards.
Phase 3 of the project will have collectives work out business plans and marketing strategies in conjunction with the Hummingfish Foundation.
Phase 4 of the project will focus on monitoring and evaluating both the success of the apiaries and the instances of crop raiding from elephants to determine the rate of elephant deterrence from bees