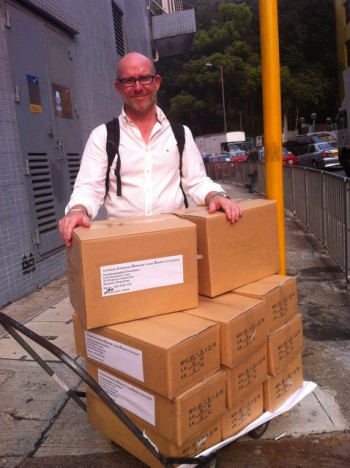 850 boxes of Ai-Funan all natural handmade soaps were recently delivered to Cathay Pacific airways in Hong Kong and with 37 minutes to spare!
A little more than 40 days ago, Ai-Funan was given the opportunity to sell inflight on all 250 Cathay Pacific Airline's flights per day an exclusive 3-pack travel box of our soap, but they had to be at the CX warehouse by the 18th of March.
Since that day, we have designed and built packaging, made 3,000 mini-bars of all natural handmade soaps, wrapped each bar individually in Timor-Leste, air-freighted them to Hong Kong, packed the soaps into individual boxes, shrink-wrapped them and delivered them to Cathay Pacific in Hong Kong. A monumental task.
This has been a full on race to the finish and our success is the result of hard work by many people from Timor-Leste, to Uganda to Singapore to Hong Kong.
This is also an historic moment for Timor-Leste as a nation. Ai-Funan has entered a market that no other Timorese export product has achieved.
Ai-Funan is run by a woman's cooperative in Timor-Leste making this the most successful woman's export business ever.
Congratulations to Ai-Funan, CTID, Hummingfish and to the Canossa Sisters in Timor-Leste!!!