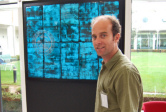 Hummingfish received a very generous donation for Mr. Tom Ingpen of Melbourne Australia and we would like to thank him very much.
The Hummingfish Foundation is a non-profit organization and we can not do our work without generous donations like the one we received from Mr. Ingpen.
Please take a moment to visit Mr. Ingpen's website (http://www.podservices.com.au/) and see some of his great underwater photographs (http://www.flickr.com/photos/bantu-wind/).
Thank you Mr. Ingpen.
Read Mr. Ingpen's comments about The Hummingfish Foundation
Hi Guys,
I found out about your inspiring operation whilst looking for East Timor dive opportunities- I'm currently spend as much time as I can diving and taking photos in Indonesia, PNG and surrounds and was looking for an operation such as yours in this region to support.
As someone who created a niche small business 12 years ago from an initial investment of $5k, I fully understand the difference you will be making to Individuals starting up, as well as the economy, environment and the region as a whole.
Its my pleasure to give a little bit to your foundation. I've been spending a bit of time being troubled by the threats to habitat and biodiversity in the SE Asia region and really believe the only sensible way to approach it is to promote the responsibly managed eco tourism operations that are locally owned. I'm sure these small operations miss out on well heeled visitors because of their understandable lack of marketing tools and quality visuals to promote their natural resources. Just look at Wakatobi Resort's quality of imagery and wide exposure: suddenly to the paying public it looks as if this is  the only place in Indo' with clear water and cuttlefish! Anyway, the support you provide seems to me the best way to empower those locals who are giving it a go, generating local/sustainable income, protect healthy ecosystems and promote biodiversity. You seem to have a small, creative, motivated team, which I always think is a the best value!