On Saturday the 13th of August, the Colour Brown Cafe in Sai Kung, Hong Kong, had a coffee tasting and fund raising event for The Hummingfish Foundation and it's projects to support green entrepreneurs in Timor-Leste.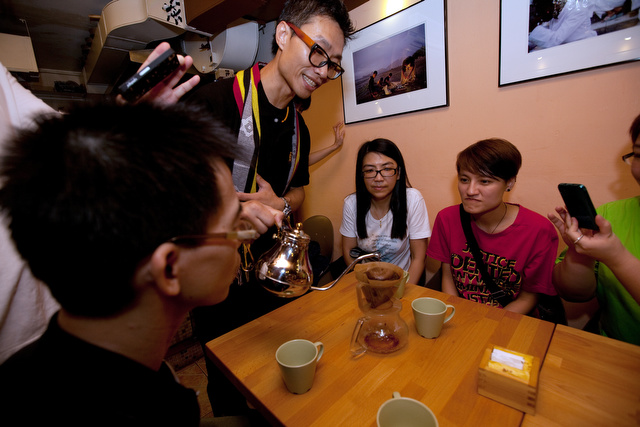 We had a lovely evening and The Hummingfish Foundation is very thankful to Edwin and Pamela at Colour Brown Cafe for organizing the event.  Daniel J. Groshong gave a brief lecture about Timor-Leste and Edwin served a beautiful slow dripped ice coffee made from organic Timor Arabica and also gave a special brewing demonstration.  The event was so popular, that some 17 people were not able to get it, so stay tuned for a "Taste East Timor Through its Coffee 2" event soon.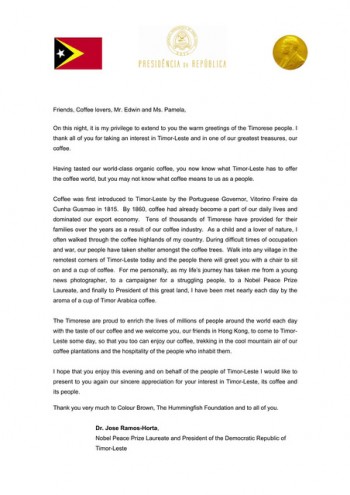 The night was honored by a very special message by Timorese President and Nobel Peace Prize Laureate, H.E. Dr. Jose Ramos-Horta.
We were also very happy to have 6 year old Anna May Groshong as our official photographer for the evening and we would like to invite you to view Anna May's images from the evening.
Hummingfish would like to thank again the Colour Brown Cafe and all the people who attended for the $4,250hkd donated to the charity during the night.  These funds will be very helpful in Hummingfish's efforts to help coffee farmers in Timor-Leste.
If you didn't make it on the 13th of August, but would still like to make a charitable donation to The Hummingfish Foundation, please follow the "Please Donate Now" button above.
All charitable donations to The Hummingfish Foundation are tax deductible in Hong Kong