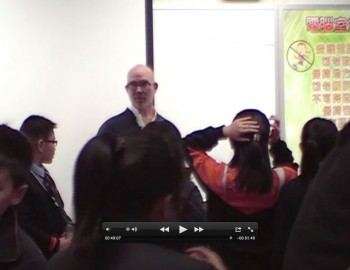 On February 8th, 2012, Hummingfish founding director, Daniel J. Groshong spoke to a class of top tier kids at Yau Ma Tai Catholic Primary School in Hong Kong.
After the presentation, Neil Stewart, the NET teacher who invited Groshong to speak had the following to say;
This is the stuff of Boy's Own Magazine!  Daniel Groshong retired US senior military instructor:  Daniel Groshong, professional photographer, whose photographs have appeared in hundreds of magazines around the world, including Time Magazine, Paris Match, Bloomberg and Penthouse: Daniel Groshong, expert on East Timorese politics and personal friend of President José Ramos-Horta, and finally, Daniel Groshong, the vision behind, The Hummingfish Foundation, http://hummingfish.org/, a charity, promoting sustainable tourism / green entrepreneurism in poverty stricken and remote parts of the world.
Modest to a fault, a gentle prod uncovers some amazing tales and adventures.  Tales of interviews with a gun wielding Taliban death squad member whose mission was to assassinate journalists in Northern Pakistan, secretly switching rolls of film whilst being jabbed in the chest by a screaming North Korean border guard armed with an AK-47 and simultaneously protecting his unconscious guide, dodging mayhem in Somalia and we're still scratching the surface.
Now, the family man, based in Hong Kong, he sports a beautiful wife and two charming children.  He has opted for a less dangerous but nonetheless rewarding and exciting lifestyle and inevitably, his creation, The Hummingfish Foundation, and its website http://hummingfish.org/, both inspires and amazes.
The Hummingfish Foundation promotes several projects that reflect the diverse interests and connections of its creator; home stays with ethnic minority families in rural China; development of cottage industries such as coffee, salt and soap in East Timor; Honey production (Bee the change) and Elephant Towers in Thailand, and dive and eco-tourism in Cambodia.  What all these projects have in common is that they benefit not only the people themselves but the local environments.