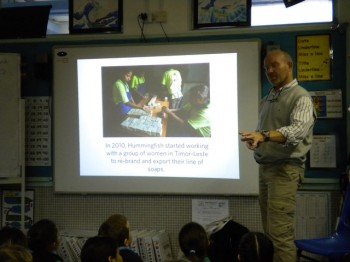 On March 8th, 2012, Hummingfish founding director, Daniel J. Groshong spoke to year five kids at Clear Water Bay School in Hong Kong.
Miss Read, the class teacher said the following about Groshong's presentation.
Hi, I just wanted to write and say thank you so much for taking the time to come in and talk to the children. I really appreciate that you made time in your busy day to come and see us. Your power point was perfect and your talk really helped to explain our Central Idea. It is very hard to keep a room full of 30 children interested, and you managed to do so from the moment you began to the moment you finished. After you left, the children also had a lot to talk about and reflect on.
Making our Inquiries meaningful to children is such an important part of developing their understanding. Your talk has been so helpful in making this possible.  I think that the children were equally impressed with your photographs, which are beautiful.  I wish you every success with your charity, which is so worthwhile.
Many thanks
Helen