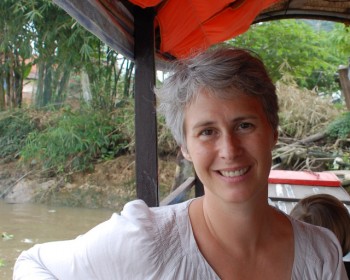 Isabelle Demenge is a native of Paris and New York City, where she has lived many lives. Student, finance lawyer, mother of three boys and world traveler.  A graduate of the University of Chicago Law School and the University of Paris II, she dabbles in photography, with an eye for capturing personality on film.
Isabelle's longstanding interest in the less fortunate of society is reflected in the eleven years spent working for and eventually co-chairing the pro bono committee of the New York office of one of the world's largest law firms. Dealing with political asylum cases, resolving VAWA (Violence Against Women Act) issues, and ensuring social security for disabled children are just some of a vast parade of causes that have inspired Isabelle in the last decade.
Of these, the many hours spent working on reviewing peace agreements in the context of her pro bono work heralded a turning point in Isabelle's career.   When the opportunity to move halfway around the world to Hong Kong arose, she welcomed the change and the hope to make a difference in people's lives.
Isabelle has been traveling since she was a toddler, all over Europe, much of Asia, Africa, and the Americas, and has not stopped since. An insatiable appetite for seeing the world's beautiful and less traveled places keeps her going. In addition to her work with The Hummingfish Foundation, which enables Isabelle to combine her passion for photography, along with her love of travel and good deeds, she is now developing a line of children's travel guides.