A United Nations Environmental Programme study entitled "Ecotoursim: Principles, Practices & Policies for Sustainability has some very interesting research on the Ecotourism.
Today, many responsible ecotour operators are working successfully around the globe to create well-planned, interactive learning experiences that introduce small groups of travelers to new environments and cultures, while minimizing negative environmental impacts and supporting conservation efforts. These service providers can be local or international, and range from seasonal community-run and family operations to medium-scale outbound operators with yearly revenues in the millions of dollars.
However, most countries probably have more tour operators that do not follow responsible guidelines than those that do. Additionally, tour operators have been hesitant to develop their own reporting systems, making it difficult to statistically document ecotourism's overall performance. One progressive example of ecotourism certification standards, however, is Australia's National Ecotourism Assessment Program, with nearly 200 operator and lodge  owner participants.
Case study evidence from the field shows that ecotour operators are seeking to provide small – to medium – sized donations to small NGOs operating in their destinations, and to assist with the development of new regional organizations that advocate sustainable tourism policies. Funds are primarily given for land conservation and community development.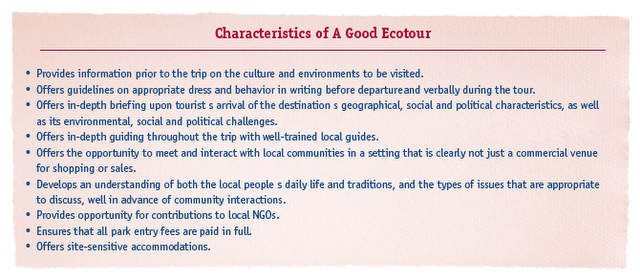 A survey of The International Ecotourism Society's supporting members in 1998 revealed that small donations equalling US$1 million were given by leading tour operators to locally run NGOs in the 1990s, while at the same time many owner/operators helped establish regional associations that advocate for sustainable tourism policies, such as the Alaska Wildland Recreation and Tourism Association in Alaska, U.S., the Galapagos Tour Operator Association in Ecuador, and the Asociacion de Kayakismo y Ecoturismo in Baja, Mexico. Other owner operators supported indigenous organizations through specially designed NGOs, such as Fundacion Pachamama and Accion Amazonia in Ecuador, both founded in the mid-1990s. While others gave directly to land conservation initiatives and protected areas, such as two Costa Rica-based tour operators who donated $25,000 to the Costa Rica Park Service in the early 1990s to help with a funding crises, and a U.S.-based tour operator that helped establish the ACEER Foundation in the Peruvian Amazon which has conserved over 100,000 hectares of rain forest for biodiversity research through private donations and tourism activities.
Ecotourism operators also directly support protected areas through gate fees. A 1994 international survey of protected areas showed that developing countries receive 54% of their revenue from tourism entrance fees (Giongo 1993). In Rwanda in the 1980s, tour operators paid $170 per client for small groups visiting mountain gorillas, resulting in more than $1 million in annual revenue to the Parc de Volcans. This was achieved while the park strictly limited the number of visitors and devoted funds to environmental education efforts across the country (Lindberg 1991).
Well-regulated protected areas, such as the Galapagos Islands of Ecuador, have directly benefited from entry fees paid by nature and ecotourism companies on behalf of their clients and also from license fees for boats. In 1998, nearly 65,000 travelers visited the Galapagos Islands, with Ecuadorian nationals paying $6 to enter and foreigners paying $80. Visitor entrance fees totaled $4.3 million in that year, averaging $66 per visitor.
Largely because of the Galapagos Islands' entry fees, Ecuador's national park service has been able to manage this world heritage ecosystem while limiting visitation to reasonable numbers, requiring highquality guiding services by local people, maintaining control of which islands and trails are visited by travelers, and providing some support to park management throughout the country. At the same time, Ecuadorians are able to visit and learn about their valuable natural heritage at a very equitable price, which has undoubtedly influenced many young people in the country to become involved in conservation.
Ecotours offer highly educational visits to the great natural destinations on the planet. Tour operators have been proactive in many instances by using their clout, time and revenue to support destinations. Fee systems are one of the most important ways that ecotourism operators can ensure that protected areas visited by their clients are properly valued by governments. It is highly important, however, that fees gathered by governments are directed toward the conservation and management of the protected areas that ecotourists are visiting.