The term "ecolodge" was formally launched in the marketplace at the First International Ecolodge Forum and Field Seminar held in 1994 at Maho Bay Camps in the U.S. Virgin Islands. Formal dialogue at this conference resulted in The Ecolodge Sourcebook for Planners and Developers (Hawkins et al 1995). The first International Ecolodge Guidelines (Mehta et al, in press) are the result of a 1995 international conference in Costa Rica and five years of research and international review. This is the first book to offer a definitive international definition of an ecolodge.
It must be stressed that an ecolodge's value is as much in its setting as its structures. Ecolodges need a well-protected setting that is not plagued by over-development or resource destruction issues. The value of an ecotourism property rises and falls with its ability to protect substantial biodiversity, wildlife and pristine landscapes. Many ecolodges have established their own private reserves, enabling them to directly manage the natural resources they depend on for their business.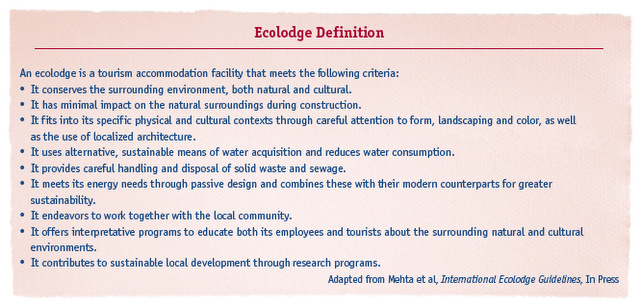 Ecolodges can be extremely rustic or very luxurious. Accommodations in general for the ecotourism industry are usually mid-range in price, though the range of accommodation types is enormous – from luxury tent-camps in Africa, to backpacker tents in Alaska, to rustic lean-tos and homestays in Belize, to ranches and haciendas in Venezuela, to tea houses in Nepal. Live-aboard boats also are popular, particularly on the Amazon.
High-end small cruise ships that can travel to idyllic marine environments such as Baja, Mexico, or Australia's Great Barrier Reef have also been extremely successful.
Many lodges offer their own guides and interpretation walks, as their visitors are frequently independent travelers that are not traveling with a tour guide. Often local farmers or indigenous people with in-depth knowledge of the local flora and fauna are hired to guide for ecolodges. Local guides usually are highly motivated by the unexpected opportunity to interpret the natural features of their home to outsiders, after years of surviving by poaching wildlife or laboring in unsustainable logging, agriculture or oil exploration. The local guide's knowledge of the land goes well beyond what most urban citizens have ever experienced in their lives, and this gives visitors a genuine respect for the people and places 28 they are visiting. The interaction between host and guest can lead to a whole new outlook for local people on the special nature of where they live.
Other recreation opportunities offered by lodges vary tremendously depending on the site: game drives, bird watching, canoeing, horseback riding, bicycling, beach trips and educational visits to locally run museums, zoos, butterfly farms, agricultural and livestock farms, craft production areas and other natural history and cultural sights. Some high-end lodges are creating jungle canopy walkways on their own properties as another guest amenity; these walkways provide unparalleled opportunities to explore the life above the rain forest tree-tops and in the most diverse part of the rain forest. Coordination of a fulfilling ecotourism itinerary requires an active working relationship with the local community. Ecolodges need to work with local guides and interact with the owners of different tourism resources – whether these are farms, canoes or horses – that would provide interesting day and half-day tours for visitors.
The management and operation of an ecolodge differs from a mainstream hotel for many reasons. According to International Ecolodge Guidelines (Mehta et al, in press), the ecolodge is most often found in wilderness areas that are the least developed, most-remote areas in any country; therefore, they are the last places to receive government investments in health, education, electricity, potable water, roads, etc. This poses a special challenge to the ecolodge owner or manager who must achieve sustainable development by supporting local communities in a long-term development program and putting a land-conservation program in place with a minimum of outside assistance. Education is one of the main mediums that will create successful ecotourism, and it falls to the ecotourism owner or manager to provide it.