A United Nations Environmental Programme study entitled "Ecotoursim: Principles, Practices & Policies for Sustainability has some very interesting research on the Ecotourism.
Ecotourists typically look for experiences that provide a sense of closeness to the natural attractions and local communities that first brought them to a destination. Any destination that seeks to attract these tourists must protect its resources while facilitating a sense of integration with the local community. It is commonly but incorrectly thought that the private sector is exclusively responsible for protecting the environment and local communities. But in fact, intervention of other stakeholders at the regional and national level is required. First and foremost, governments are responsible for planning, policy-making and zoning, which helps ensure that destinations are not overbuilt. Governments also are responsible for waste and water treatment systems and energy resources. As such, it is in their best interest to require more sustainable and environmentally sound approaches. If no effective regulation or enforcement of environmental laws exists, and if natural areas are developed without foresight, facilities will be improperly constructed in certain instances. Even in remote areas, where ecotourism is often developed, it is still necessary to set development standards that are approved in coordination with local stakeholders, particularly representatives of local communities.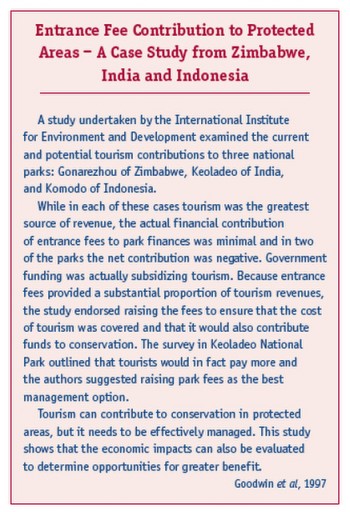 If mega-tourism complexes are planned with built-up, walled-in complexes, golf courses, "guests-only" clubs, and "plantation-style" service, these same areas cannot be expected to be appropriate for ecotourism. The concept of an eco-destination is new, and no guidelines have been written for it. It emerged precisely because governments sought to promote ecotourism in destinations that already had been developed without any of the basic principles that might attract an ecotourist, and at times without respect for the environment or local communities. The worst examples of this type of destination development have been reported from Southeast Asia, where in one case, millions of ethnic peoples were resettled from their homelands and compensated with so-called "ecotourism" jobs in new locations. This was clearly not true ecotourism and shows how ecotourism can be mislabeled and mishandled by governments.
The planning and management of a destination will determine how well ecotourism can thrive there. However, it is still extremely rare to see integrated regional tourism planning and management, not to mention strategies that highlight ecological and social considerations. The planning of an eco-destination depends on baseline data of social and environmental factors, zoning strategies, regulations that can prevent deliberate abuse of fragile ecosystems, local participation in developing a set of standards for limits of acceptable change, and long-term monitoring.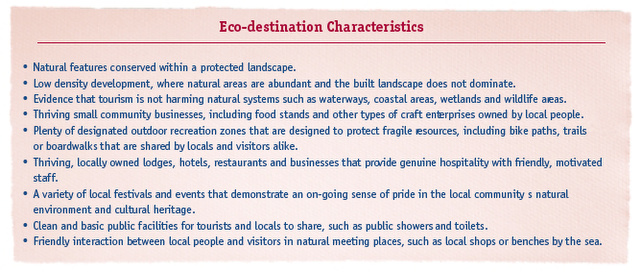 Once clear planning for development takes place, it is much more plausible that individual businesses can succeed at their goals of offering environmentally sensitive tours and lodging that provide benefits to local communities. Management is absolutely required at the destination to ensure the long-term harmony of tours and lodges with the people and environment of the region.