A United Nations Environmental Programme study entitled "Ecotoursim: Principles, Practices & Policies for Sustainability has some very interesting research on the Ecotourist Demographics.
Ecotourist Demographics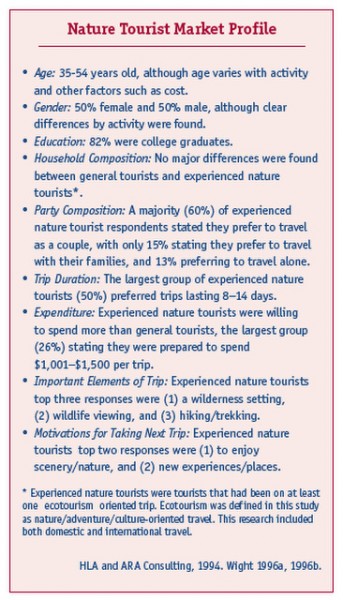 At present, hundreds of independent nature tourism companies in the U.S. and Canada handle well over one billion dollars in annual sales. A number of research studies provide excellent information on the clientele of North American companies, providing demographics and information on nature tourist motivations. Based on data collected by HLA and ARA Consulting firms, it has been possible to construct a nature tourist market profile of North American travel consumers.
A portion of this market is undoubtedly ecotourism in design and implementation, but it is still unknown how much. In well-documented ecotourism destinations – including Costa Rica, Ecuador, Belize, South Africa, Kenya, Botswana and Nepal – hundreds of tour operators and lodges receive nature tourists from around the world, but no ecotourism market research is yet available in published literature on these destinations, though all these countries do provide data on their nature tourism market.
European statistics do not provide clear data on the nature tourism market, even though demand for environmentally friendly products is clearly demonstrated there. Research indicates that Europeans are more likely to seek out rural tourism in Europe rather than nature tourism, because most of the European natural environment is not a wilderness landscape (Blangy & Vautier 2001). Northern Europeans in particular have consistently shown interest in tourism with high standards of sustainability as part of the package they purchase, and nature tourism is strongly developing as an outbound market for these countries and for England.
Although Europe is a vital tourist market, little data is available on European interests or attitudes towards nature-based travel or ecotourism. Australian research (Blamey 1998) on its inbound nature-based market demonstrates that a high percentage of German (20%), Swiss (23%) and Scandinavian (18%) tourists were interested in Australia because of its nature-based outdoor activities. The European market interest in nature travel exceeded any other inbound market, including the U.S and Canada. This clearly indicates that Europe will be an important nature tourism outbound market, if European market research begins to identify nature and ecotourism as a category of research.
More research on the ecotourism market is necessary to better define what portion of the large and growing nature tourism market will most likely respond to social and environmental approaches and be willing to pay for them. Research shows that while consumers support environmental issues, they have been more enthusiastic about expressing their concern in surveys than about purchasing green products (Ackerstein & Lemon 1999). Future market research should distinguish between nature tourism and ecotourism, which requires a more sophisticated survey instrument that examines lifestyles and a consumer's willingness to pay for environmental and social sustainability approaches, not simply the activities the tourist has participated in. The question that remains is how many tourists in the 21st century will be willing to pay for environmentally and socially designed ecotourism programs. Such research will assist practitioners in designing programs for this market.
The Number of Ecotourists
Because ecotourism is defined by its objectives to conserve nature and contribute to local people, it has been difficult to measure. As yet, no in-depth studies have attempted to determine how many nature tourists are actually motivated to make travel decisions based on ecotourism principles. Ecotourism is widely researched as nature tourism, leading to false assumptions on the size of the market. Research on nature tourism has shown that as much as 50% of the total travel market wants to visit a natural area during a trip, which might include a short day stop in a national park. While this is a very large market, it is quite different from the market that is actually motivated to travel in small groups, learn about wildlife and culture with a local guide, and help support local conservation and sustainable development.
An extremely rough estimate of the world's international ecotourism arrivals would be seven percent of the tourism market (Lindberg 1997), or approximately 45 million arrivals in 1998 and 70 million expected for 2010. To this, one must add the substantial number of domestic visitors to natural areas.
Key ecotourism destinations have reported dramatic increases in visits to protected and other natural areas. Ecotourists have always been strongly attracted to national parks and protected areas. While simply visiting a park or natural area is nature tourism – not ecotourism – visitor trends to parks give an indication of the growth of ecotourism as well. Surveys from the early 1990s began to register the dramatic growth in tourism to national parks in important ecotourism markets – showing an important shift in tourism preferences from the traditional destinations of Europe to a broader range of nature destinations, primarily in developing countries. Foreign visitors to Costa Rica's parks skyrocketed from 65,000 in 1982 to 273,000 in 1991 – a 30% annual increase.
Other countries quickly began to note similar trends. Australia undertook a thorough survey of its naturebased tourists in 1995 (Blamey & Hatch 1998) and these results strongly confirmed that national parks and reserves have "high appeal" among international visitors to Australia. Of the 1.7 million foreign visitors to Australia in 1995, 50% visited at least one national park during their stay – a 10% increase over the previous year.
Many other nature-based destinations have documented high growth rates throughout the 1990s (see the following table).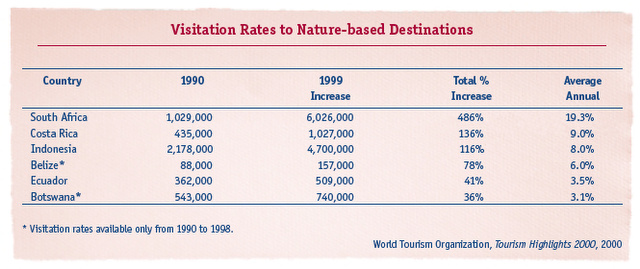 In preparation for 2002, designated by the United Nations as the International Year of Ecotourism, the World Tourism Organization is conducting market surveys in some European countries, with results available in late 2001.